Violin Shop of Old Carmel
…is owned and operated by award-winning luthier, Alexander Leyvand.
…offers full service for violins, violas, cellos, basses & bows. This includes repairs & restorations; rentals; sales; consignments; warrantied purchases & free trials of custom, shop made and/or mass produced violins, violas, cellos, basses and bows.
…carries a wide variety of accessories and sheet music.
Uniting American tradition and European expertise
in modern sound and form.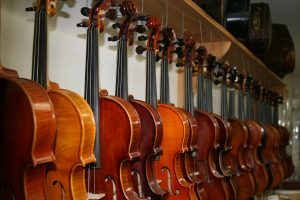 At the Violin Shop of Old Carmel, we are passionate about quality and performance.
Our luthiers pour hours of expert workmanship into their hand made and refurbished instruments to achieve the best in modern tonal quality and traditional aesthetics.
Since 1991, we've provided hand selected instruments to musicians from all over the world.
We're here to continue providing the best service and craftsmanship to our clientele.